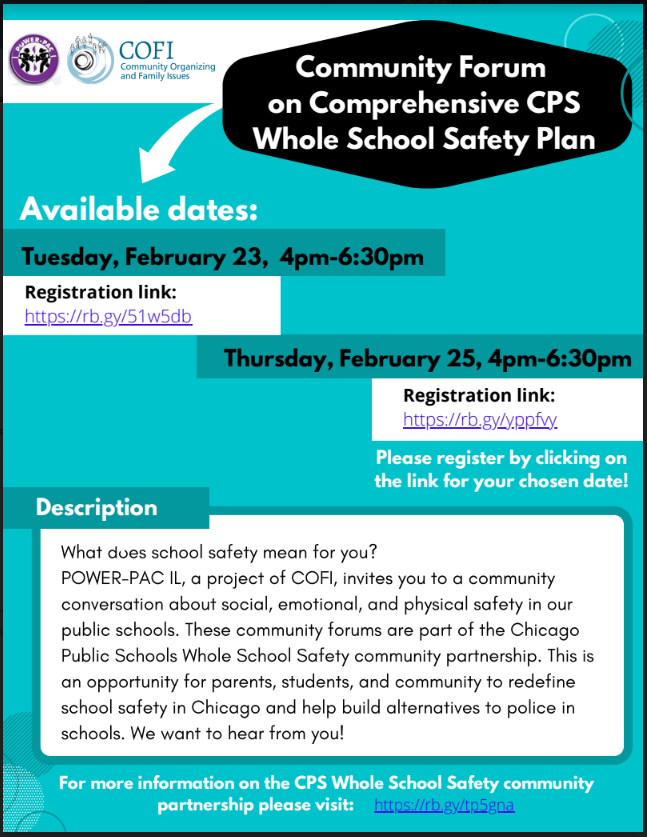 Dear KPH Community,
A local community organization called Community Organizing and Family Issues (COFI) was selected by Chicago Public Schools to be a lead in the Whole School Comprehensive Safety community partnership. As part of this work, COFI parents, along with members from 5 other community organizations, have been tasked with helping to develop 5-10 recommendations for alternatives to police in schools. The Board of Education has committed to support our recommendations as the LSCs of the 55 schools that still have SROs get ready to create their Whole School Comprehensive Safety Plans next summer. To learn more about this community partnership, you can visit the CPS website.
As part of this work, COFI is hosting two public events in the month of February where we will hold community dialogues on what comprehensive school safety means for parents, students, educators, and community members. These events will inform and guide the recommendations that the committee of 5 community based organizations will present to CPS in March. This is an opportunity for all stakeholders to be part of the process of reimagining school safety across Chicago!
Register for Tuesday, 2/23 from 4-6:30pm HERE!
Register for Thursday, 2/25 from 4-6:30pm HERE!
---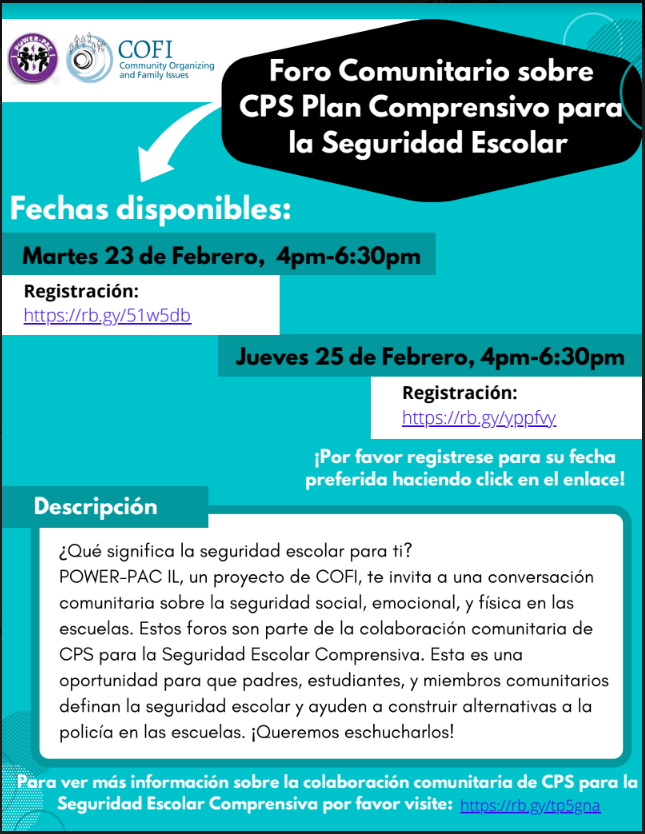 Estimada comunidad de KPH,
Las Escuelas Públicas de Chicago seleccionaron una organización comunitaria local llamada Organización Comunitaria y Asuntos Familiares (COFI) para liderar la asociación comunitaria de Seguridad Integral de Toda la Escuela. Como parte de este trabajo, los padres de COFI, junto con miembros de otras 5 organizaciones comunitarias, tienen la tarea de ayudar a desarrollar de 5 a 10 recomendaciones de alternativas a la policía en las escuelas. La Junta de Educación se ha comprometido a apoyar nuestras recomendaciones mientras los LSC de las 55 escuelas que todavía tienen SRO se preparan para crear sus Planes de Seguridad Integrales para Toda la Escuela el próximo verano. Para obtener más información sobre esta asociación comunitaria, puede visitar el sitio web de CPS.
Como parte de este trabajo, COFI está organizando dos eventos públicos en el mes de febrero en los que realizaremos diálogos comunitarios sobre lo que significa la seguridad escolar integral para los padres, estudiantes, educadores y miembros de la comunidad. Estos eventos informarán y guiarán las recomendaciones que el comité de 5 organizaciones comunitarias presentará a CPS en marzo. ¡Esta es una oportunidad para que todas las partes interesadas sean parte del proceso de reinventar la seguridad escolar en Chicago!
Regístrese para el martes, 2/23 de 4-6:30pm AQUÍ!